Welcome to The Counseling Center
Thank you for visiting! We offer an array of services and resources to help students move toward their life goals, as well as information and consultation to parents, faculty, and staff as you support them. Please contact us if you have any questions.
We all seek love and approval as human beings. Sometimes relationships become difficult to manage. We may feel misunderstood and unimportant to those we care deeply about. We try to make sense of things we do not understand and sometimes we are quick to judge and assume. The pain of feeling misunderstood is sometimes far greater than the contentment of feeling understood. In that space, sometimes our relationships and friendships are severed. This depends sometimes on how we perceive people and make sense of their behavior. We oscillate between either blaming ourselves or others. This, in turn, makes us feel rejected and unwanted. We seek ways to soothe ourselves and in that process make choices that are unhealthy for us.
Permanent link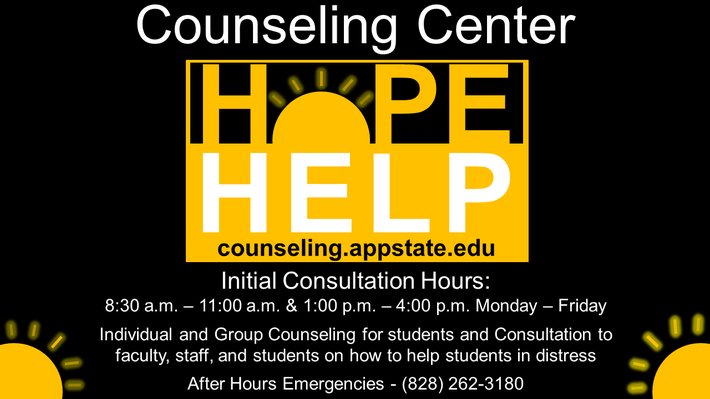 In Boone this summer? The Counseling Center is open and services are available for enrolled students.
To get started, students may walk in for an Initial Consultation: Mon-Fri 8:30-11:00 A.M. and 1:00-4:00 P.M. Please Note: These Hours may vary slightly during different weeks of the summer. Please contact us at 828-262-3180 for our current schedule and availability.
Permanent link
The Mental Health Ambassadors are peer educators trained by Counseling Center staff to present on mental health topics, including Counseling Center Services, Stress Management, Healthy Relationships, Conflict Management, and Suicide Awareness. They can also show a short film, It's Real, featuring students' real stories and experiences with mental health. Consider bringing one of these interactive, relatable presentations to your club meeting or classroom! To learn more or to schedule a program, please visit https://mha.appstate.edu/pagesmith/7 and/or contact Emily Lazar at lazarek@appstate.edu.
Permanent link
Contact Us
1st Floor, Miles Annas Building
P.O. Box 32044
614 Howard Street
Boone, NC 28608
---
Hours of Operation:
Monday - Friday 8:00 a.m-5:00 p.m
Initial Consultation Hours:
Monday - Friday:
8:30-11:00 a.m. & 1:00-4:00 p.m.
- Please Note -
During Summer Sessions, Initial Consultation Hours at times may vary. Please contact us at (828) 262-3180 for our current schedule and to verify availability.
Emergency Services
The Counseling Center offers after-hours emergency coverage for urgent mental health concerns such as suicidal thoughts, sexual assault, and other trauma. Call the Counseling Center at 828-262-3180 and select the option to speak with the counselor on-call.
During operating hours, students in crisis can walk in any time.