Introducing the CU Thrive Program
The Counseling Center is excited to introduce to you the CU Thrive Program!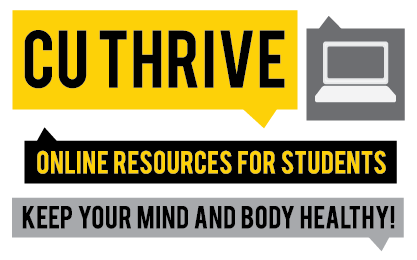 Our campus community has now expanded with the new addition of NASPA's (Student Affairs Administrators in Higher Education) health and wellness program.
CU Thrive – an online database full of helpful information for students. CU Thrive provides students access to ready-to-use articles, videos, courses, and other information that will help them adjust to campus life, stay healthy, enhance study skills, work through stressful situations, and build relationships, improving their overall quality of life.
The goal of this program is to offer ASU students an easy to use online resource where they can access the necessary materials to support healthy functioning and resiliency. This program is unique because it takes a preventive approach to health and wellness; in other words, it is proactive rather than reactive. This proactive approach helps us maintain an awareness of the difficulties college students face and support them as they adjust to college life, in hopes of avoiding more serious risks or negative outcomes during and throughout their transition to college life.
How will CU Thrive impact our campus community?
It is our hope that this program will serve as a springboard for in-depth conversations and additional support networks that will lead to the development of healthy coping skills and resiliency for ALL of our students. For students who are not struggling, this program can offer helpful information, a repertoire of new coping skills, and valuable guidance that can be applied to future life decisions and experiences. For students who may be struggling emotionally, these resources will serve as a vehicle to promote self-awareness and identification so they can seek the appropriate help. In addition, the program will offer up-to-date information regarding events hosted by the Counseling Center, Wellness Center and other related offices on our campus.
How can I help make CU Thrive a success?
The Counseling Center encourages you to explore the CU Thrive program further. You can visit appstate.cuthrive.com to set up your own CU Thrive account using your Appstate email address. After you have had an opportunity to familiarize yourself with the website, share this new resource with other students and encourage them to set up their own account!
Thank you so much for helping us make the launch of CU Thrive successful on our campus. If faculty, staff, or students have any questions, concerns, or comments or would like to schedule for us to come to your class, club, or student group and share a quick presentation on this resource, please email or contact:
Dr. Denise Lovin, PsyD
Staff Psychologist, Outreach Coordinator, Co-Coordinator of Mental Health Ambassadors
Appalachian CU Thrive Campus Coordinator
Counseling & Psychological Services Center
Appalachian State University
Boone, NC 28608
(828) 262-3180
lovindm@appstate.edu