Meeting Mental Health needs of Student Athletes.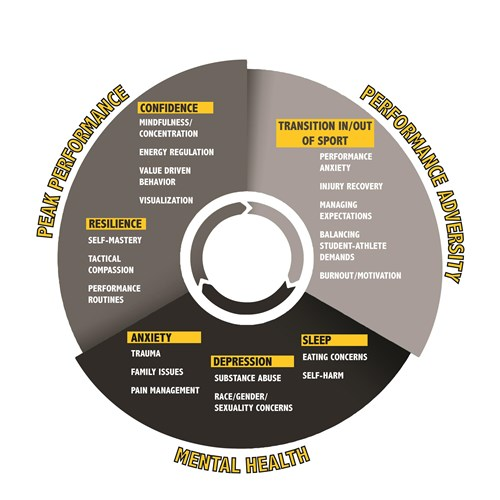 The 2021-22 academic year marked the sixth year of a formal partnership between the counseling center and the athletics department along with the third year of having a full-time sport psychologist at App State. The new position's partial embedment within athletics has allowed for more timely and effective mental health care designed specifically to help navigate the unique mental health issues faced by student-athletes. Additionally, innovative approaches to care via consultation systems, pre-performance mental health screeners, groups, and mental performance workshop has enhanced mental health care accessibility and proactive team-based approaches to general student support.
Similarly, the presence of a uniquely trained clinical sport psychologist within the dynamic sports environment has allowed for on-the-fly consultation & training pertaining to mental health and performance enhancement for administrative staff, coaches, and athlete support staff members. Since designing and implementing this new position in August of 2019 the total number of athletes who have gotten connected for counseling and psychological services has increased steadily each year, over doubling statistically as of spring 2021. Click on the graphic to show how mental health and the unique challenges for student athletes overlap, and provide opportunities for student learning and development.