Helping Connect Students with Thriving Campus!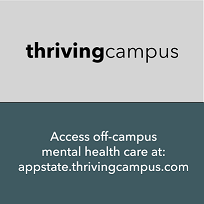 As Referral Coordinator for the Counseling Center, I have had the opportunity to help students and parents get connected to Therapist and Mental Health Resources in our community for almost nine years. Last year, we introduced a new Provider and Referral Database called Thriving Campus to our Referral Coordination Services. At the beginning of the 2021-2022 Academic year, we embedded the Thriving Campus database and search engine in the Counseling Center website in an effort to help students and parents easily obtain access to local Community Mental Health Providers. From Fall semester of 2021, till the Spring Semester of 2022, our Thriving Campus page has been visited over 2100 times by students and families who have viewed the Provider Profile pages 7613 times! In addition, Providers on the database have responded to request for their availability on average with in one day! The students I have been able to support in the Referral Process using Thriving Campus have overwhelmingly stated that the convenience and information provided to them via the database made the process of getting connected to resources much easier, and allowed them to tailor the searches to their specific needs.
We look forward to widening the database to regions across the state, and continuing to help our students discover Mental Health resources that are available to them. Head on over to the Appalachian State Counseling Center Thriving Campus page to check out this amazing resource.
Scott Dula, (LCSW)
Referral Coordinator
Senior Staff with Counseling and Psychological Services