Yoga for Positive Body Image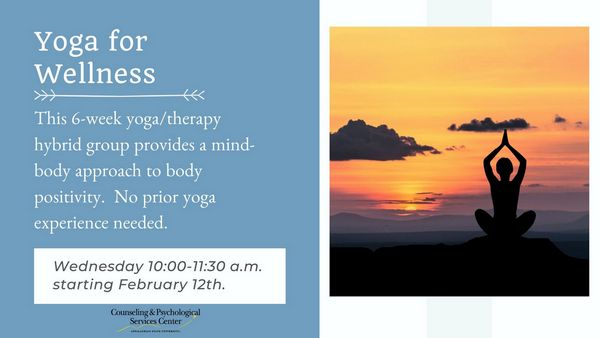 The Counseling Center in collaboration with Student Health Services is happy to offer a "Yoga for Positive Body Image" Group.
It will meet Wednesdays in the counseling center at 10:00 am-11:30 am from February 12th - March 25th (excluding Spring Break week.) This group is open to students with eating concerns, trauma, or any type of concern related to body image. All genders and gender-neutral students are welcome. The only exclusion is if a student is in another Counseling Center group this Semester then they are not able to participate in this one as well. We want to be able to reach the most students as possible with the services available.
Students who are interested in this group can contact the Counseling Center for an Initial Consultation. During this process, a student can inform the clinician that they would like a screening appointment for the Yoga for Positive Body Image Group. The screener will then make a screening appointment with Dr. Ashley Wilson for the group.
If a student is already a client at the Counseling Center (has seen a therapist in the last 30 days) they should email Dr. Ashley Wilson at Wilsonar4@appstate.edu and let her know they want to be screened for the group and she will set up a time with them. In addition, current clients can tell their counselor that they want to participate and they will schedule an appointment with Ashley for the group screening