Coming Home Through Art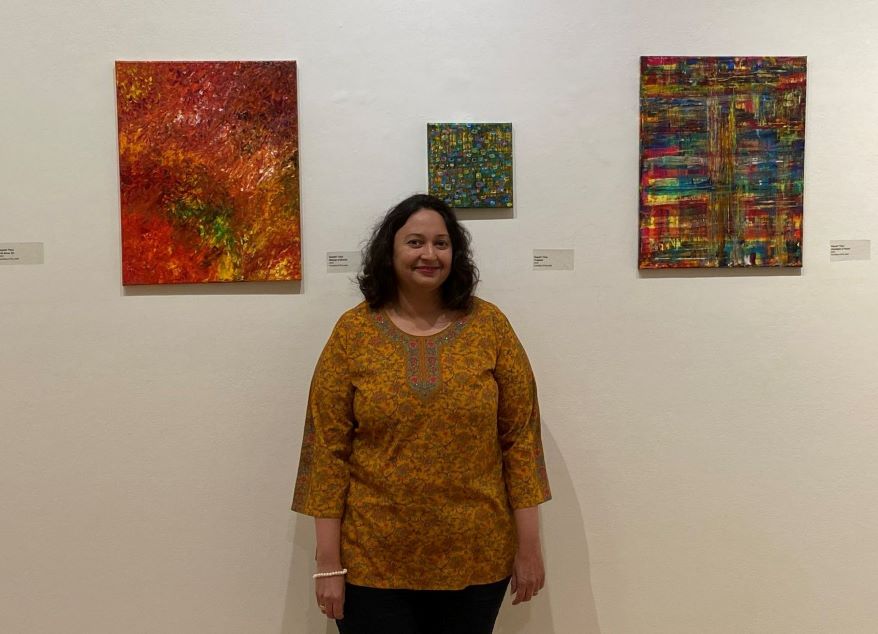 Dr. Gayatri Titus, Counseling Center Staff Counselor/Coordinator of Multicultural Services, turned to making art during the pandemic to rejuvenate her soul, express feelings brought on by the pandemic, find balance, and nurture hope. Now her art is featured this summer in the Looking Glass Gallery of the Plemmons Student Union. The exhibit, entitled "Coming Home," "refers to a place that is not so much a destination outside but within," says Dr. Titus.
"My message is that perhaps we all need to give ourselves permission to come back home to ourselves, to our safe place and honor our own stories. When we can show ourselves kindness and compassion, slow down and be fully present with ourselves, then it becomes easier to extend that to others," states Dr. Titus.
"I hope that we may give the gift of grace and empathy to others that we would also like to receive from them. We are all interconnected." For students interested in that interconnectedness that supports us all, check out the therapy groups in the Counseling Center such as the Understanding Self and Others groups. Look for Dr. Titus to be facilitating one of those groups, as well as the Students of Color Support Group. Outside of the Counseling Center, look for Dr. Titus' programs that feature self-care including tea meditations, mindfulness, labyrinth meditations, and workshops to build your own Coping Skills Toolbox. Of course, this summer look for Dr. Titus sharing her art in the Student Union.
As someone who teaches us all about the power of gratefulness, Dr. Titus adds, "I would like to express my sincere gratitude to Sam Oleschuk and Reagan Bullock [student employees for art in the Student Union] for working with me to select and display my artwork at the Looking Glass Gallery. They have been so kind and wonderful to work with and I feel so honored to have collaborated with them."