Plant Your Roots at APP!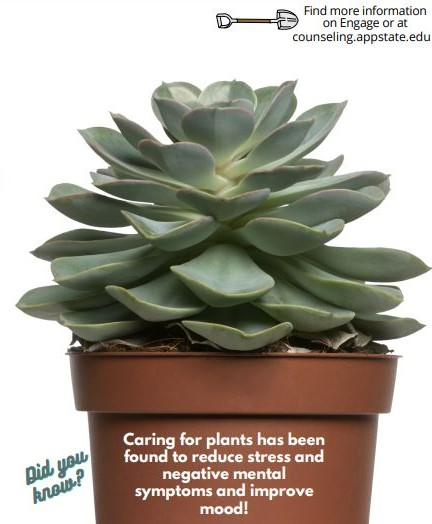 Research shows that interactions with plants can reduce psychological and physiological stress. Plants also help us grow compassion towards self and others through fostering connections with nature which can affect a sense of belonging and purpose. Plus, plants are just cool!
The Counseling Center offered "Plant Your Roots" events during the 2022-2023 academic year to help students engage in mental health practices and learn about Counseling Center services through learning how to care for houseplants.
The Counseling Center collaborated with faculty and staff to collect plant donations along with community nurseries that donated plants and soil. Over 120 students received plants during the welcome week event, where students selected and potted their plants in the soil while learning about the parallels between plant care and mental health care. Additionally, 50 students received plants during the collaborative event with the Multicultural Center later in the year. During the events, students were able to engage with Counseling Center Staff and Mental Health Ambassadors to learn about mental health resources on campus and walk away with a new plant. A special thank you to all the faculty and staff for your generous donations – The Plant Your Roots events would not have been possible without you all. Look for "Plant Your Roots" events in the upcoming year!