Welcome to the Counseling Center – Let's Connect!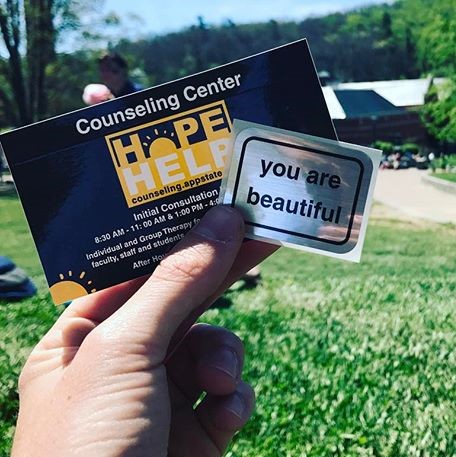 Connections with others are more important than ever. Here's how the Counseling Center is offering an array of services to help students build connections, gain support, develop skills, and move through challenges. For parents, faculty, and staff who are concerned about a student and would like to encourage connection to the Counseling Center, you are welcome to consult with us on the phone or read through tips in the How to Help section of our website.
• Get Started with an Initial Consultation: We are scheduling Initial Consultations by phone to help students interested in connecting with one of our services, who would like to talk about options for support, or who would like assistance with referrals or other resources. Please call us at 828-262-3180 to schedule an Initial Consultation to discuss options.
• TeleMental Health: We offer Individual Counseling through TeleMental Health. Call the Counseling Center at 828-262-3180 to schedule an Initial Consultation to speak with a Counselor about options for services that will match your needs. Please review the Counseling Center's TeleMental Health Informed Consent.
• Group Counseling: See information about our Quick Access Groups (Anxiety Toolbox, Kind Mind, and HEALS), as well as our ongoing therapy groups such as Understanding Self and Others, Connections, LGBTQQ+, and Food/Mood. All a great way to connect with others and know you are not alone.
• Emergency Services: Please see our updated emergency services page for options if living in Boone, other parts of NC, and contact information for national resources.
• "Let's TeleTalk!": Brief, one-on-one consultations with Counseling Center counselors. Let's TeleTalk counselors can share helpful resources, offer their perspective on specific problems or concerns, assist in learning how to help a friend, and answer questions about what it might be like to talk with a counselor.
• Self-Help: See our self-help resources available to assist with anxiety, depression, sleep, relationships, traumatic events, etc.
• Outreach Presentations: We are happy to connect virtually with clubs, organizations, and classes to present workshops and discuss mental health topics. See https://counseling.appstate.edu/pagesmith/147 to request a program and learn more about our Mental Health Ambassadors.