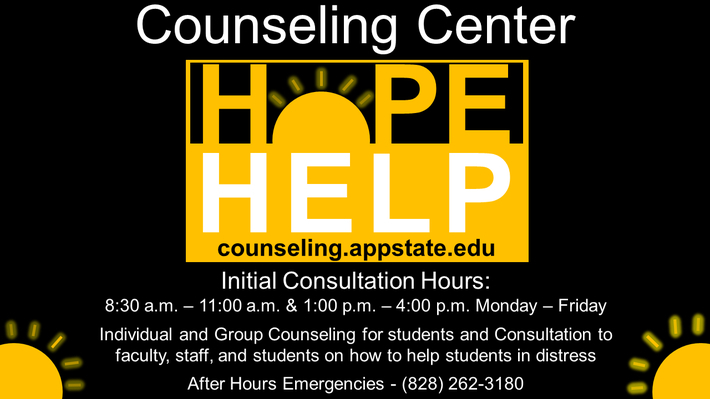 Our entrance and lobby area are undergoing renovations to prepare for the fall semester. This summer, our alternate entrance door can be found across Howard Street from the College of Education, between the Miles Annas Building and the AppalCart College Station bus stop. Blue signs are posted to guide the way into the Center. This route does involve stairs. If you have difficulty accessing the entrance, please call us at 828-262-3180 so that we can assist.
In Boone this summer? The Counseling Center is open and services are available. Eligibility for services in the summer includes students who are enrolled in at least one of the summer sessions or a student who was enrolled in the most recent spring semester and is enrolled in the upcoming fall semester. To get started, students may walk in for an initial consultation (hours listed above). We also offer consultations for faculty, staff, and students on how to help students in distress.

Wondering if counseling services are a good fit for you? Check out our website (counseling.appstate.edu) or our free and anonymous online screenings (http://screening.mentalhealthscreening.org/APPSTATE) to learn more!